I'm 60 years old and far from an outdoors man. But last month I spent five nights sleeping outside on a sandy beach in the company of biting ants, scorpions and at least one snake that was brave enough to make an appearance. There were times I was soaking wet and shivering from the cold. There were other times I poured water on my head to keep from overheating.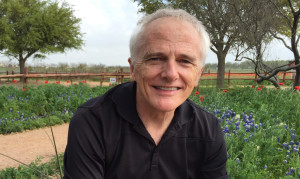 The last night on the beach, sleeping near the rushing river, I was staring at an amazing star studded sky and considering the final giant obstacle that I and the team with me would soon be facing. I'd be carrying a 35 pound backpack with all my supplies up an 8.5 mile trail that ascended over a mile high to the village where we would be spending the night. We were starting early to get as much trail behind us as possible because the chilly night air would soon give way to temperatures over 100 degrees.
Crazy, eh?
Staring at the expansive sky I thought about some of the lessons I had already learned –mostly from the challenges of the trail and the churning water that tested us every day. Here are some of the lessons I learned that apply to the life trek you and I are on serving the Lord and His people in ministry.
FULL DISCLOSURE
I wish I could say I was "suffering for Jesus" in some exotic place climbing to an unreached village to take them the gospel. But, in reality, I had chosen this craziness.
I was on a spiritual retreat with 22 guys, mostly church or business leaders, and 6 guides. It was a trip led by my son, Joel Malm, for Summit Leaders. We were rafting down the Colorado River in the Grand Canyon and would then hike out of the Canyon to the South Rim to Grand Canyon Village.
But after a few days of collecting bruises, scrapes and cuts while climbing, hiking, and rafting I did learn a lot about Christian ministry.
1. Ministry is a team effort.
Shooting the rapids required working together or we faced being capsized and a dangerous swim. Scaling the rocks required we reach back and help the next guy find the handholds and footrests. When one fellow grabbed a cactus instead of a rock the team gathered to pull needles, encourage and – OK, maybe laugh just a little bit. But only after we knew he was OK.
Ministry requires a little laughter, too. Even in the midst of the pain.
While being cloistered away in a monastery may sound real spiritual, Jesus walked among the masses and that is what He calls us to do, too. He was not a "one man show". He drew His disciples around him. Even though they failed him, disappointed him, misunderstood him and abandoned him He refused to do ministry alone.
2. Follow an experienced guide who has been there before.
Some of the crazy stuff we did could have been suicidal but the guides had done this before. They knew how to get us safely there and back. (At least that's what they told us.)
"Reach under this rock ledge and you'll feel a hand hold." "Don't jump there. The water is too shallow." "Wear good shoes. We'll be scaling some rough rocks." "Drink more water!"
I've found that the longer I serve as a minister the more confident I can become in my own ability. But in this divine adventure there is only one Guy who ever did it perfectly. And He offers to be my constant and personal guide. What kind of fool would try to find his own way when The Way offers to lead him? I've got to stay in close touch with the Guide.
3. Heed the warning signs or die.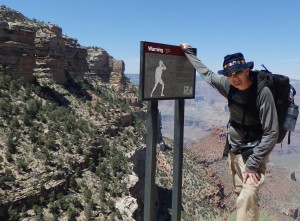 The day before we hiked out of the canyon another hiker had died of dehydration. Climbing the same trail that took his life I passed several warning signs that he surely had seen – but ignored.
The signs warned: "Don't hike alone." He was alone.
Our Divine Guide gave me a Guidebook to show me the trails and the dangers to avoid. I need to stay in touch with the Guidebook lest I wander from the right path.
4. Take it a step at a time and you'll be amazed how far you can climb.
It was easy to get discouraged looking up the canyon. Could I ever reach the top? But all I had to do was take one more step. …then one more. Take one step at a time and you'll be amazed at how far you can go. You can reach that goal! Just keep going one step at a time.
5. The wrong path never leads to the right place.
Every path leads somewhere. Sometimes we are tempted to compromise – half-truths, exaggeration, creative accounting, etc. The wrong path won't take us where we want to be no matter how noble our intentions. If I discover I missed a turn I need to immediately change course (repent) and get on the right path.
6. You gotta stop and look around once in awhile.
It's easy to trudge through life focused on the dusty trail – all the struggles, all we lack and all that isn't the way we want it to be. I did have to watch the path for rocks or holes that could twist an ankle. But every now and then I also needed to stop, look around, enjoy the amazing view and be reminded of how far I had come.
7. "You must be an active participant in your own survival."
I love that quote from our lead guide. Others can help us but they can't do the hard work for us. If we are going to be successful in life and ministry we must do the work – spiritual disciplines, going the extra mile, attention to our health – spiritually, physically, mentally, emotionally.
8. Life is an optical illusion.
From one end it appears to be very long, but when you look at it from the other end it is amazingly short.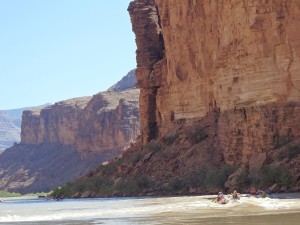 This life is a dangerous trek – none of us get out of it alive. And, as a minister, we have not chosen the easiest path. But the glorious truth is this. Successfully completing this climb is not dependent upon our own ability.
Jesus promised He would make sure we make it to the top. We just need to stick close, keep focused on Him and put one foot in front of the other. Never give up. Never quit. And when we fail or fall short, which we all do so often, get back up and get back in the climb.
He who began a good work in you will carry it on to completion until the day of Christ Jesus. – Philippians 1:6