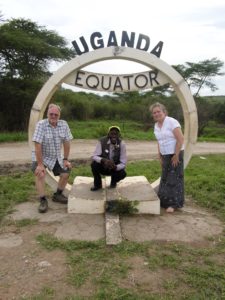 We are Roy and Janie Moore. We are partnering with Rev. Stephen Adyeri and Ebenezer ministries in Uganda. We are helping him bring the gospel to the rural churches, refugee centers, and unreached people groups of this amazing country.
At Roy's retirement, God opened the door. A twenty plus year friendship between Pastor Stephen and our family became an opportunity to service, and to work with him as he shares the gospel of Jesus Christ in his native land. Roy is an evangelist and Bible teacher.
Jane is an encourager and loves to work with the Ugandan women and children.
Jane's hobby of tatting (lace making with just a shuttle and thread) has opened the door to formation of Operation BEAD, Believing in Education And Dreams. This is a fair trade industry enabling young women to help pay school fees by the sale of artisan laces and jewelry.
Another goal is the building and maintaining a retreat center for bush pastors and their families. Fishers and Finishers will provide training and Bible skills to help the pastors teach their flocks, as well as fellowship and connect with other pastors and their families. It will offer short-term mission opportunities to those in and out of Uganda to come, fellowship and teach.
II Corinthians 9:15    Thanks be to God for His unspeakable gift.
We have partnered with Commission Ministers Network to raise funds for our missionary outreach in Uganda. If you would like to partner with us in ministering to the wonderful people of Uganda, please send a check to CMN, PO Box 291002, Kerrville, TX 78029-1002 OR you can donate on line at here. CMN will send you a tax deductible receipt with any donation. The funds are deposited in our bank at the end of each month.