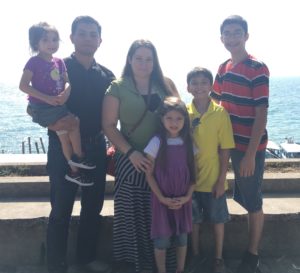 About 5 years ago the Lord brought my husband, Victor, myself, Maria, our children, Victor (15), Adrian(10), Leilyan(7), and Daniella(3), to Guatemala from Virginia. I, Maria, was traveling back and forth during that time with my children. One year ago, God touched my heart to stop traveling back to the States with my kids for long periods of time. My husband, Victor, and I had been in constant prayer for the Lord to open doors so that we could be a blessing to the people here in Guatemala. As time passed we kept meeting different missionaries and built relationships with them. Once they learned the different talents that the Lord had given us, they would ask for our help with various projects. Victor, my kids and I would always help with a servant's heart. We knew, even though we didn't come here as missionaries, serving was always a necessity. We want to serve where the Lord needs us and have felt the call to become missionaries.   
We receive teams that stay in our home. We coordinate opportunities in different remote areas of Guatemala to preach, teach, encourage and minister to unbelievers. We facilitate transportation, food, work along side them, and interpret Spanish. I, also, use my God given talent of face painting to reach children and incorporate this into our ministry. 
In October 2016, I was asked to teach a baking class at Prince of Peace Home for Girls. I started the class with teaching 4 girls how to bake bread. Since the beginning, the class size increased to 8-10 girls. The Director of the home let me know, upfront, the home is not in a financial position to pay me for my time to teach this class or for the supplies needed. These girls are from homes where they have been sexually abused. This class provides the opportunity to speak to the girls about the love of God and the plans He has for their lives. Additionally, it helps them to develop a skill that they can take with them when they leave the home to use in a career or their own homes. 
The mission organization that I am with is called Commission Ministers Network, which is a 501c3. My name is on their list, under donations. If you would like to be a part of our ministry, you can donate at www.cmnetwork.org . Please make sure to type "Maria Valdez" on the message line, before confirming your donation. You can also send a check to "CMN" at PO Box 291002, Kerrville, TX 78029-1002. Please make sure to write "Maria Valdez" on the memo line before mailing. This is to insure that the funds are distributed to our ministry.