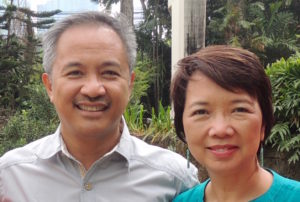 I, Leo received Christ in 1982. In 1987, I joined full-time Christian work with Campus Crusade for Christ reaching to student leaders in college campuses with the gospel of Christ. Later I finished my MA in Counseling, and a Doctor of Ministry in Spiritual Direction in 2006. For for more than 20 years I have been involved in counseling work, and in teaching Counseling at the International Graduate School of Leadership (IGSL).
I now serve as the spiritual director and spiritual formation trainer for Companion With The Poor or CWTP.

Our Mission: To mobilize people to plant holistic churches in urban poor communities in Metro Manila and beyond.
Our Vision is to see: A Sustainable Church in Every Slum.
To make the slum church viable, we partner with local churches doing the following:
Door-to-door evangelism

Community organizing

Setting up Alternative Learning System (ALS) to out-of-school youth

Providing medical missions

Bible Study discipleship

Feeding programs

Educational scholarship

Campus ministry amoung students
Ammi came to the Lord in 1972. From 1979 till 1995 she was involved as Campus Crusade for Christ staff, a trainer of the Great Commission Training Center and also director of women's ministry. She also studied Spiritual Direction. Currently, she serves in helping to train and equip the workers of Companion With The Poor. Ammi and I married in 1989. Together we are committed to love God and to serve and follow His purposes. We have 3 children, Camille, Mark and Michael.
Serving mission workers among the poor
We are involved as trainers of Companion With The Poor or CWTP (www.companionwiththepoor.org), an interdenominational church planting ministry among the urban poor areas of Metro Manila. CWTP has over 65 full-time mission workers doing holistic church planting ministry among the slums. My task is in leading the teams in the their spiritual formation and I serve as the spiritual director and counselor for the organization. Ammi serves in helping equip and train the women. We in CWTP are now reaching out to new areas in Montalban, Las Pinas, Laguna, North Fairview and in Bulacan, where new slums communities are at.

Giving spiritual direction & conducting retreats
We provide spiritual accompaniment and conduct guided contemplative retreats for small groups and workshops on prayer and spirituality. For many years, we have been leading retreats for the IGSL seminary, church groups, Campus Crusade, the CWTP, and for group leaders of other mission organizations.
Counseling & Teaching
We offer counseling for couples facing marriage and family issues, and for individuals who are broken by personal and relational concerns. We meet those who come for help to honestly face and work deeply through their struggles and seek Christ's presence and healing work. I also teach at the International Graduate School of Leadership on Biblical Counseling and Marriage and Family counseling.
Commission Ministers Network is a non-profit and sends letters of receipt for tax purposes with each donation and at the end of the year. The funds are sent to me at the end of each month. If you would like to know more about CMN, click here.
If you would like to be a part of this ministry, you can donate here. Be sure to put Leo Armas on the message line. Or you can send a check to CMN at PO Box 291002, Kerrville, TX 78029-1002.