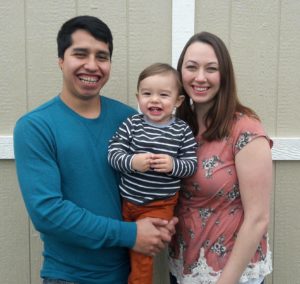 Kellory grew up in Washington State. In 2012 she went on her first mission trip to Guatemala.  She fell in love with the people who gained a special place in her heart.  A year later she went again and that confirmed God's calling on her life to serve long-term in Guatemala.  She began to pray fervently that God would send her in His timing, according to His will.  And He did! In June, 2014, she moved to Chimaltenango, Guatemala and lived in a Christian orphanage and taught at a school for children from extreme poverty.  It was there that she met her future husband, Boris Canas.  He also was called by God nearly a year earlier to renounce his job and start working in ministry, not understanding what the future held, but trusting the Lord nonetheless.  Boris was born and raised in Guatemala.
They were married in August, 2015 and began seeking the Lord's will in ministry as a couple.  God put on their hearts the need for Biblical truth to be taught and the gospel to be preached.  They currently serve in a village called Santa Cruz Balanya at the Colegio Evangelico Filadelfia (Philadelphia Christian School).  They started an after-school program focusing on teaching Bible and English.  They also minister to the families of the children and in the community through home visits with the main purpose of sharing the gospel, teaching from the Bible and giving Bibles away. 
Kellory teaches piano and is building relationships with the girls and boys at Hope and Future orphanage in San Lucas.  Boris enjoys helping with and teaching at different Bible studies throughout the week.  One is in our home and one that ministers to the shoe-shiner boys from the park in Chimaltenango.  Boris is planning on starting Seminary in 2018 to one day become a pastor.  They are blessed with a son, Boris Liam.
We thank you for your prayers, support, and love for our family.  If you wish to contact us you can reach us at canasfamily2015@gmail.com.
"And I, when I came to you, brothers, did not come proclaiming to you the testimony of God with lofty speech or wisdom.  For I decided to know nothing among you except Jesus Christ and Him crucified. And I was with you in weakness and in fear and much trembling, and my speech and my message were not in plausible words of wisdom, but in demonstration of the Spirit and of power,  so that your faith might not rest in the wisdom of men but in the power of God." 1 Cor. 2:1-5
To raise support, we have partnered with Commission Ministers Network. They are a 501(c)3 and send you a tax letter receipt with each donation and a year-end statement. You can donate using your credit/debit card here OR mail a check to CMN  PO Box 291002  Kerrville, TX 78029-1002.