Dr. Mihaye is the leader and founder of Glorious Faith Chapel International Church in Ghana. He plants churches and has International outreach in many countries in Africa and Europe. He is a motivational speaker, a revivalist, a conference organizer and a speaker to leaders.

Dr. Joseph Mihaye operates in the Fivefold Ministry. He demonstrates the Word of God in power, even as he teaches because he believes that the kingdom of God is not only in words, but in power. He has traveled to South Africa, Nigeria, Togo, Benin Republic, Ivory Coast, Swaziland, Botswana, Sierra Leone, Kenya, Uganda, Cameroon and many parts of Europe, including Germany, France, Italy, Belgium, Denmark and The Netherlands.
Dr. Mihaye is also the Founder and President of Apostolic Ministerial International Network, an International Council of Churches Worldwide. Read more here.

Dr. Joseph Mihaye Kwaku is an Author of three Christian books. "The Seven Levels to Effective Apostolic Ministry, The Battle of Success and The Power of Wisdom.

The gospel is going on as we have been commanded with a Divine mandate to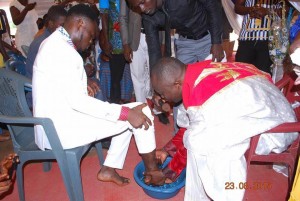 reach the lost for Christ and to heal the sick and raise the dead. The blind are seeing, the sick are healed and the demon possessed are delivered. We need support from people and Christian bodies, individuals and organizations to be able to reach many souls.
CMN affiliation has been helpful to affect many regions in Europe, Asia and Africa sub-region. Commission Ministers Network is a non-profit and sends letters of receipt for tax purposes with each donation and at the end of the year. The funds are sent to me at the end of each month. If you would like to know more about CMN, click here.
If you would like to be a part of this ministry, you can donate here. Be sure to put Joseph Mihaye on the message line. Or you can send a check to CMN at PO Box 291002, Kerrville, TX 78029-1002.