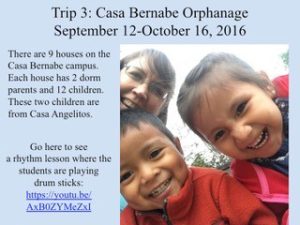 The day I was asked if I knew there was a marching band in Guatemala is a day I will never forget.  I remember it well. I had been teaching music lessons over Skype to students in Africa, China and Egypt and 10 different states in America, but the adult students who asked me this question lived in St. Louis and had been helping an organization in Guatemala.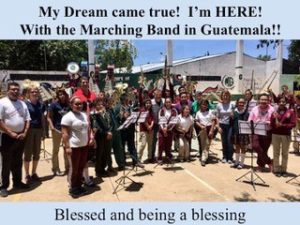 The organization, Morning Glory Christian Academy, had a marching band and my students thought I might like to teach students in Guatemala, too.
I think they had no idea what an impact on my life that question would have. When I heard the question, I was filled with the Holy Spirit. I instantly felt love for the children in Guatemala and instantly wanted to learn Spanish and go to Guatemala. Within a year, I traveled to Guatemala 5 times. Each of those opportunities seemed to be sanctioned by God because the road to teach music to hundreds of under-privileged children was cleared for me with open door after open door. Orphanage after orphanage opened their arms to my teaching and presence.
For my 7th trip to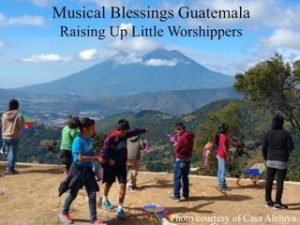 Guatemala, I have accepted a full-time, missionary position teaching music at the Christian Academy of Guatemala for the school year 2017-2018. Weekends I will go to the orphanages and begin a national, children's church choir that will tour Guatemala and abroad. The children will lead the audience in worship. God clearly loves these children from Guatemala and wants them to love Him and worship Him and share what they have learned about music and worship with the world.
Join me with other ministry partners and change the lives of children in Guatemala through music education and Christian worship: Musical Blessings Guatemala: Raising Up Worshipers.
I have partnered with CMN to help with fund raising. For tax deductions and a tax-deductible receipt at the end of the year, please send payments to Commission Ministers Network (CMN), P.O. Box 291002, Kerrville, TX  78029-1002. Or use www.CMNetwork.org/donate to use your debit/credit card through PayPal. There is a place to put your gift is for Heidi Sorber.