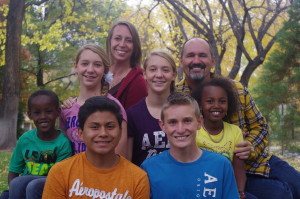 Isaiah 58:10 tells us to "Spend ourselves on behalf of the hungry and satisfy the needs of the oppressed." Eric and Heather Haddox have dedicated their lives to fulfill that commission. We have 6 children, three who are adopted. Whether stateside or internationally, God has called us to "spend ourselves" for others. This is why God originally called us to Guatemala, (2005-2008) Eric serving with Engineering Ministries International and Heather working to educate children in need. The Lord had us stateside for the past 8 years, completing adoptions and furthering our education, preparing us to go back on the mission field. 
God has once again opened the door to minister in Guatemala with Manos de Compasión (Hands of Compassion) in rural Santiago, Atitlán, Guatemala. Manos de Compasión is a children's home ministering to around 60 children from diverse backgrounds and situations. Manos de Compasión seeks to provide a family-style environment as opposed to an orphanage. The majority of the children are placed permanently, with the exception of the girls who've been rescued from trafficking. Those placed in the home for future adoptive parents. The children have diverse spiritual, educational, psychological, and emotional needs. The directors have asked us to come alongside to minister to these precious children.
Eric has a diverse educational and experiential background which has prepared him for the mission field. He has a B.S. in Civil Engineering and a Master's degree in Theology from Dallas Theological Seminary. He also recently completed his pilot's license and has a plane which will be utilized in the ministry to help transport children to the city multiple times per week.  He also will be working with discipleship, mentoring, handiwork, construction, transport, and anything else needed by "Macgyver."  He is gifted at building relationships and enjoys any work which God calls him to do.
Heather has a Master's degree in Multicultural Education. She has devoted her life to serving those who are at risk educationally. She has worked in settings in every age group from PK to college, private to public, stateside to internationally. In Guatemala from 2005-2008, she started two schools.  She will be working to assess students and train teachers in the new school which is set to open January 2017. Some of the girls who've been rescued from trafficking have never been to school. It takes a unique understanding of educational needs in order create an environment for their educational success. It is her privilege to spend herself for this purpose and see God open their minds.
We have 6 children and have been married for 19 years. Our children, Eli (2000), Anzo (2001), Abi and Zoe (Twins 2001), Kiya (2007), and Kaiyin (2009) are excited to serve and minister in their own ways according to how God has gifted each one. We have spent most of our time living in California and Nevada. Our "home base" is Reno, Nevada.
Please pray for the us as we serve those in need in Guatemala. If you have further questions or would like to know specific prayer requests, please contact us at ericheatherh@gmail.com.
Commission Minister's Network is a non-profit, 501 (C)(3) and sends letters of receipt for tax purposes with each donation at the end of the year. The funds are sent monthly to Eric and Heather Haddox because of their administrative partnership with them. If you would like to know more about CMN, click here.
If you would like to partner with this ministry, you can donate, here. Be sure to put Eric and Heather on the message line. Or you can send a check to CMN at PO Box 291 002, Kerrville, TX 78029-1002 (place Eric and Heather Haddox in the memo line).