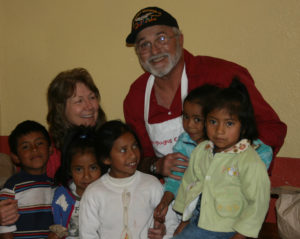 We are David and Kathy Doss. We have been serving in Quetzaltenango, Guatemala since 2001. Currently we operate a feeding program in central Quetzaltenango serving 55 people a hot nutritious lunch. The mission we founded and are directing also coordinates a variety of educational outreach projects for the children who attend the feeding program. For more information on our ministry, go to Maya Mesoamerica Mission's website at www.mayamission.org.
To raise support, we have partnered with Commission Ministers Network.  They are a 501(c)3 and send you a tax letter receipt with each donation and a year-end statement. The funds are sent to us at the end of each month.

If you would like to be a part of this ministry, you can donate here. Be sure to put David & Kathy Doss on the message line. Or you can send a check to CMN at PO Box 291002, Kerrville, TX 78029-1002.